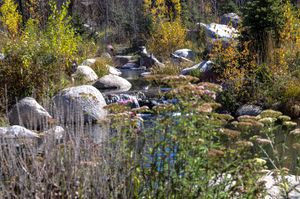 Participate
 Here's what you can expect if you come to the John Denver Celebration in Aspen.  Events vary from year to year.  In the past,  we had luncheon concerts at one of the top restaurants in the valley, hayrides, campfires, large venue concerts, smaller venue concerts, nightly sing-a-longs, hikes, wonderful new friendships and a week of music and entertainment that will last a lifetime.  Former members of John Denver's bands have participated with visitors of the John Denver Celebration.  In years past, we have enjoyed Jim Connor ("Grandma's Feather Bed"), Chris Nole,  Pete Huntlinger, Herb Pederson, John Sommers ("Thank God I'm a Country Boy"), Bill Danoff ("Country Roads") Steve Weinberg ( "Christmas For Cowboys"), Jim Horn, and others who have worked with John Denver. The weekend is filled with large concerts and intimate events. You can pick and choose which events you go to.

 Lodging is available at different rates throughout Aspen and nearby Snowmass Village, Colorado with buses servicing the community .  A great resource is to visit aspenchamber.org.  There are plenty of restaurants of different price ranges.  Off season in October is a great time to experience Aspen at a discount with some of the fall colors.  Once in Aspen you will meet plenty of wonderful new friends, who are also John Denver fans,  who will help direct you to great events, hikes, and other free events.  Some favorite locations folks like  to visit is the place where the Rocky Mountain High album cover picture was taken on the Roaring Fork, the beautiful serenity of the John Denver Sanctuary, the scenic Maroon Bells, the Windstar land conservancy in Snowmass, and many more scenic areas in the region.  
People from all over the world visit Aspen for these events. Expect to meet people from Spain, Japan, Australia, England, Germany, Holland and more.  Most importantly, you can expect to rekindle your love of John Denver's music and legacy. It is an experience that you won't forget!